Dr. Banjo Omowunmi Abosede
Lecturer II  (234) 7061942923 banjo.omowunmi@oouagoiwoye.edu.ng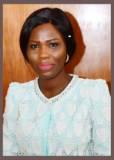 Biography
Dr Banjo started her academic career at the Olabisi Onabanjo University some few years ago. Shes a PhD degree holder from the University of Ibadan, Nigeria and her area of specialization is in Environmental Microbiology. She has been and is actively involved in a number of researches and currently focuses on the the contribution of untreated (infectious and hazardous) wastewater to the expansion of antibiotic resistance and other resistance determinants in the environment.
Awards/Fellowship
Course(s) Taught
Introduction to Microbiology
Environmental Microbiology
Microbial ecology
Publications
Adelowo, O.O., Caucci, S. Banjo, O.A., Nnanna, O.C., Awotipe E.O., Peters, F.B., Fagade, O.E. and Berendonk, T.U (2018). Extended Spectrum Beta-Lactamase (ESBL)-producing bacteria isolated from hospital wastewaters, rivers and aquaculture sources in Nigeria. Environmental Science and Pollution Research. 25: 2744-2755. https://doi.org/10.1007/s11356-017-0686-7
Olaitan, O.O., Diene, S.M., Kempf, M., Berrazeg, M., Bakour, S., Gupta, S.K. Thongmalayvong, B., Akkhavong, K., Somphavong, S., Paboriboune, P., Chaisiri, K., Komalamisra, C., Adelowo, O.O. Fagade, O.E., Banjo, O.A., Oke, A.J., Adler, A., Assous, M.V., Morand, S., Raoult, D., Rolain, J-M. (2014). Worldwide emergence of colistin resistance in Klebsiella pneumoniae from healthy humans and patients in Lao PDR, Thailand, Israel, Nigeria and France owing to inactivation of the PhoP/PhoQ regulator mgrB: an epidemiological and molecular study. International Journal of Antimicrobial Agents, 44: 500-507. https://doi.org/10.1016/j.ijantimicag.2014.07.020
Banjo, O.A., Adelowo, O.O. and Fagade, O.E. (2016). Occurrence of Multiple antibiotic resistance and Extended Spectrum Beta-Lactamase genes among Escherichia coli from hospitals groundwater samples in Ogun State. Nigerian Journal of Science, 50: 23-32.
Banjo, O.A. and Ohue, L.A. (2017). Occurrence of AmpC and Extended-Spectrum-Beta-Lactamases in Salmonella spp from wastewaters and groundwater of three hospitals in Ogun State. African Journal of Science and Nature, 4: 49-55.