Dr. Oladunjoye Rasheed Yemi
Lecturer II  (234) 8058109160 oladunjoye.rasheed@oouagoiwoye.edu.ng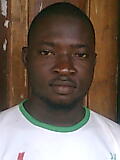 Biography
Dr. Oladunjoye, Rasheed Yemi
Awards/Fellowship
Publications
Soewu, D. A., Agbolade, O. M., Oladunjoye, R. Y. and Ayodele, I. A. (2014). Bioaccumulation of Heavy Metals in (Thyonomys swinderianus) Cane Rat in Ogun State, Nigeria. Journal of Toxicology and Environmental Health Sciences, 6 (8): 154 – 160.
Fafioye, O. O., Oladunjoye, R. Y., Bamidele, T. T. and Ige, T. A. (2017). Determination of Heavy Metal Levels in Oreochromis niloticus and Chrysichthys nigrodigitatus from Ogun River, Nigeria. International Journal of Fisheries and Aquaculture, 9 (8): 86 – 91.
Fafioye, O. O., Asiru, R. A. and Oladunjoye, R. Y. (2018). Length-Weight Relationship, Abundance and Sex Ratio of the Giant River Prawn Macrobrachium vollenhovenii (Herklots, 1857) From River Osun, Southwestern Nigeria. Journal of Aquaculture Research and Development, 9 (10): 1 – 5
Ogbu, U. M., Oladunjoye, R. Y., Okorafor, U. P., Unigwe, C. R. and Odah, S. I. (2019). Growth Performance, Serum Biochemistry and Haematological Response of Broilers Chicken Exposed to Neem (Azadirachta indica) And Aloe Vera (Aloe barbadensis) Leaf Extracts. Scientific Research Journal, 7(3): 1 – 14.